AT&T unveils new wireless plans for the iPhone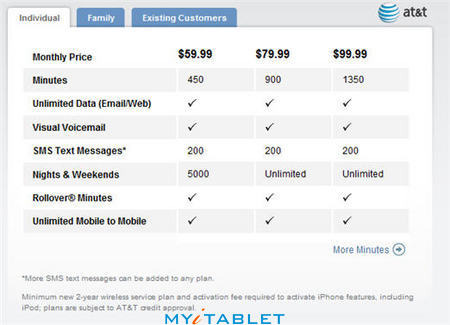 So you've been wondering just how much the iPhone is really going to cost you. Well, worry no more because AT&T has finally unveiled their wireless plans specifically for the iPhone, and they aren't as bad as we feared.
As you can see, individual plans start out at $59.99 and get you 450 minutes, 200 SMS Text messages and unlimited data. Should you choose to keep your existing plan, you can just add $20 a month for the iPhone data plan.
Naturally, you'll need to sign up for a new 2-year service agreement, or extend your existing one by 2 years. What is great is that you won't have to mess around with activating your iPhone in the store. You'll take care of that when you get home. You will select your iPhone plan using iTunes on your own computer. That will certainly make the lines move much quicker on launch day.
Rate Plans for iPhone announced [via MYiTablet]