AT&T tops charts in latest 3G performance test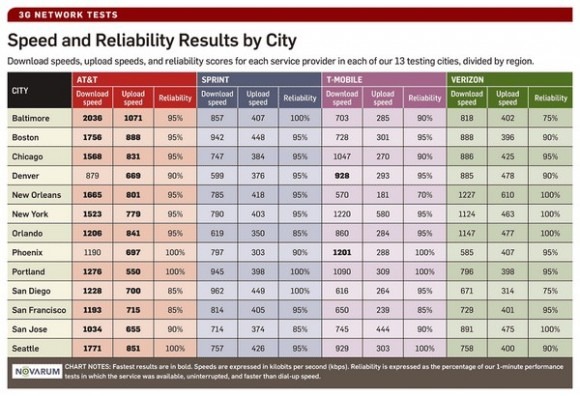 With the increasingly explosive smartphone market, top-notch 3G network performance has become even more important than ever before.  AT&T manages to steal the throne for peak 3G performance, according to a recent PC World test report, beating out various other competitors by a wide margin.
AT&T's download speeds were 67 percent faster on average than those of the other three largest U.S. wireless providers–Sprint, T-Mobile, and Verizon.  The AT&T network's reliability improved dramatically, too: in thw latest tests, testers connected to AT&T successfully in 94 percent of their attempts.
AT&T has been getting a lot of flak lately (then again, which provider isn't?) for its spotty service, but performance-wise, seems to top the charts.   Baltimore, Boston, Chicago, Denver, New Orleans, New York City, Orlando, Phoenix, Portland, San Diego, San Francisco, San Jose, and Seattle were all the cities tested.