AT&T to Offer MobileProtect for $13.99 a Month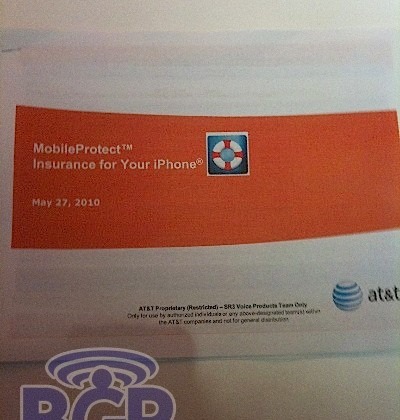 If you've got an iPhone, then you're painfully aware that the only way to insure your precious Apple mobile device, is to go through Apple themselves. While their AppleCare plan is top-notch, it may still be too pricey for some. So here comes AT&T to (finally) save the day. There's a bit of bad news thrown into the mix of good, though, so click after the break to find out if MobileProtect is right for you.
A crafty Ninja fielded some new photos of the MobileProtect plan over to Boy Genius Report, and unless these are some ridiculously good counterfeits, it looks like AT&T is all set to start protecting people's investments. The protection plans will be provided by Asurion (which tends to run all insurance for every major wireless carrier out there, in the States), and you will be able to order them from Apple's App Store, and the $13.99 per month charge will be billed directly to the credit card on file with Apple.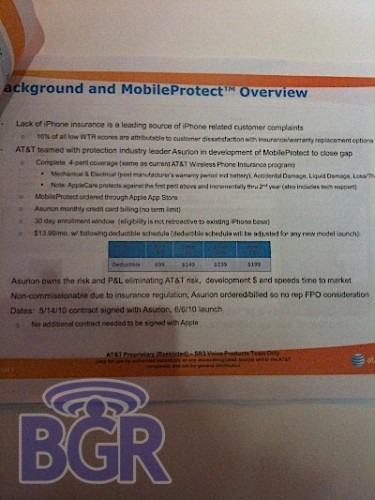 Now for the bad parts. Just like with any other cell phone covered by insurance, the iPhones will have a deductible. It starts at $99 for an 8GB iPhone 3G, and climbs all the way up to $199 for a 32GB iPhone 3GS. Of course, if you don't have any insurance on your handset and you're forced to buy a new 32GB iPhone 3GS, that'll set you back $699, so take that for what it's worth. Also, you'll have to have upgraded, or picked up a new two-year agreement with a new iPhone to fit into the protection plan's requirements, so all those current iPhone owners out there won't be able to take advantage of this deal. Hopefully you've got AppleCare. What do you think? Is this worth it? Or just another way for AT&T to get some more money?
[via BGR]