AT&T shuts down A-List Unlimited Calling feature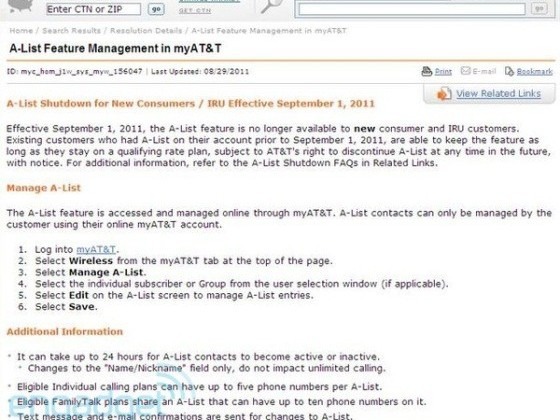 AT&T has confirmed discontinuing its A-List program after an internal memo was leaked, revealing that the feature would shut down today for new customers. Existing customers get to keep the feature as long as they remain on a qualifying plan. The A-List was launched nearly two years ago to compete against rival offerings such as T-Mobile's myFaves.
The feature allowed AT&T customers with qualifying plans to list up to five domestic wireless or landline numbers as VIPs, which meant that calls to these numbers would not count towards regular minutes. In fact, customers could make unlimited calls to these VIP numbers. Family Talk plans qualified to list up to 10 VIP numbers.
Engadget had obtained a screenshot of the internal memo announcing the A-List shutdown and later confirmed directly with AT&T that the carrier is indeed canceling the offer for new customers. Although existing customers get grandfathered in, be warned that switching rate plans could turn off the feature. Below is the official statement from AT&T regarding the matter:
With automatic addition at no-cost of AT&T's Mobile to Any Mobile offer for our wireless customers with an unlimited messaging plan, AT&T A-List is being discontinued for new users. Existing A-List users are not affected. We have seen a very enthusiastic response to the value of Mobile to Any Mobile which lets users with an unlimited messaging plan call any mobile number in America, regardless of the wireless provider.
We just hope more competitive offerings don't get axed as AT&T moves towards acquiring T-Mobile for $39 billion. However, its acquisition plans have faced a new hurdle today with the US DOJ filing to block the merger.