AT&T may launch femtocell soon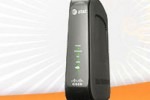 For a while, we heard a lot about femtocells and how they were going to save us from the dregs of poor cellular signals indoors and in underserved areas. Sprint was the first to launch a femtocell commercially the U.S. and AT&T is ready to go one better with the launch of the nation's first 3G femtocell.
Yahoo Finance reports that the launch of the AT&T 3G Microcell could come as early as next week in select markets including Atlanta, San Antonio, Seattle, and North Carolina. Nationwide rollout of the femtocell is expected by the end of the year.
The 3G Microcell from AT&T supports both voice and 3G data by routing the activity over a user's existing broadband connection rather than the AT&T network. The device is said to be able to cover as much as 5,000 square feet of space. The device will support up to 10 mobile devices at once.