AT&T getting a phone from Napster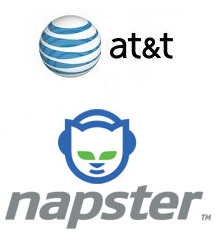 Samsung is the maker, its their SLM phone, and it's a flip phone. So, what are Samsung, Napster, and AT&T all bringing to the table that could possibly compete with the iPhone?
Well, not much really, I mean, first it's a flip phone, so it loses all the touchscreen functionality of the iPhone, then its not an Apple product, so no OSX, no HTML browser, no YouTube app, no iTunes Store, and no Google Maps. It does have 3G (HSDPA), and support for all of AT&T's features like their music and video services as well as mobile banking from a couple of banks, and obviously it has a mobile version of Naptser.
But the tracks are crazy expensive, sure, you have to connect to WiFi to use the mobile iTunes store, but the tracks are still just 99 cents, on Napster, $1.99 or $7.49 for a 5 per month download package. Wow, good thing I only listen to 5 tracks per month. You do also get a 2MP camera with the napster phone, but that's nothing different over the iPhone. And the Napster phone comes with a 512MB microSD card as compared to the iPhone's 8GB of storage. You should be able to get the Napster phone on November 23rd for $150 after mail in rebate and 2 year agreement.
AT&T announces Napster phone [via tgdaily]