ASUS ZenFone smartphone lineup debuted with Intel Atom processors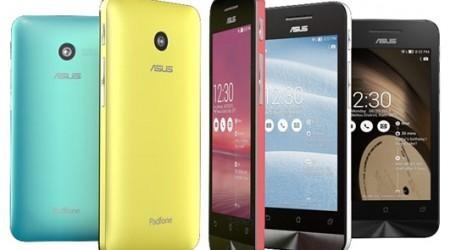 ASUS has taken the wraps off the new lineup of ZenFone smartphones powered by Intel Atom processors: the ZenFone 4, ZenFone 5, and ZenFone 6. With these handsets comes a swath of colorful rounded mobile devices, all of them boldly bearing ASUS's branding and the newly-introduced ZenUI, a new user interface the company is rolling out with its smart devices.
As you can tell by the naming structure, the ZenFone 4 is the most diminutive of the batch, offering a 1.2GHz Intel Atom Z2520 processor with Quad-Thread Hyperthreading technology. There's a couple camera, with the rear one being a cool 5-megapixels, while the display is a 4-inch WVGA panel with a resolution of 800 x 480. Software is Android 4.3, and it'll be available in five colors.
From there, we have the slightly higher-end ZenFone 5, a visually similar smartphone with a 2GHz Intel Atom processor and a 8-megapixel rear camera with a BSI sensor and image stabilization. The camera in particular utilizes ASUS's PixelMaster technology, which is one of the model's bragging points. This particular model will be available in four colors: red, white, black, and gold.
Rounding it all out is the highest-end model, the ZenFone 6, a 6-inch phablet offering with a modest 720p HD resolution and a 2GHz Intel Atom processor. The Android version is likewise 4.3, and the memory is 1GB. The biggest difference is the rear camera, which is a high 13-megapixels, as well as the comparably larger battery to handle the bigger screen. There's no word yet on when these handsets will roll out, nor how much they will cost.
Asus ZenFone 4
Asus ZenFone 5
Asus ZenFone 6