ASUS ZenFone Max Pro M1 is all about the battery life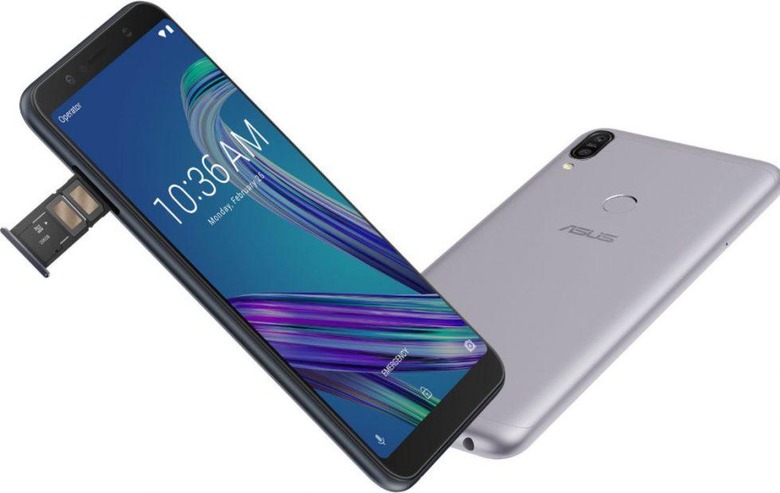 Today, ASUS revealed the next phone in its ZenFone Max lineup. This new device is called the ZenFone Max Pro M1, and like the Max Plus, it's almost entirely focused on long battery life. In fact, it even seems like its mid-range hardware has been selected specifically to make the Max Pro last as long as possible on a single charge.
To hear ASUS explain it, the ZenFone Max Pro is capable of lasting up to two days on a single charge in some scenarios. More specifically, the company claims up to 20 hours of YouTube playback and 42 hours of 3G talk time. Those are some pretty impressive claims, but as with any battery life boast, your mileage will almost certainly vary.
Still, it's hard to argue with the phone's 5,000mAh battery. Even if it turns out that ASUS's claims of battery greatness are a bit exaggerated, there aren't many phones out there that can sport a battery that beefy. It's helped along by a Snapdragon 636 processor, which attempts to strike a balance between power and battery life. While it definitely isn't the best mobile processor out there, it should be capable enough to do what most mainstream users expect out of a smartphone.
Other key specifications for the ZenFone Max Pro M1 include a 6-inch 1080 x 2160 display, dual rear cameras with a main sensor that clocks in at 16MP, 4K video recording, and dual SIM capabilities. All in all, it sounds like a pretty solid device, especially if battery life is one of your main concerns when buying a smartphone.
As is stands, we don't know how much the ZenFone Max Pro M1 will cost or where it will launch. ASUS revealed the phone at an event in Delhi, India earlier today, so that's definitely one of the markets it's targeting. The hope is that the Max Pro M1 will eventually make its way to the US, but considering that the Max Plus just arrived in February, we might be waiting a little while.