ASUS unveils VivoBook Windows 8 laptop [UPDATE]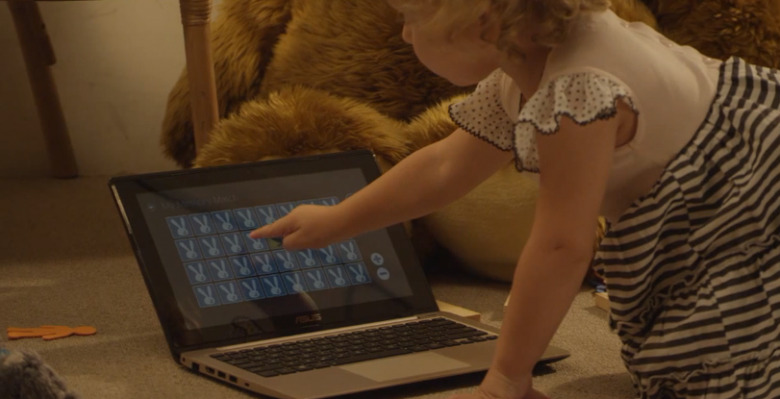 Back in August, ASUS unveiled its Vivo Tab line of tablets at IFA 2012, which come packing with Windows 8 and an NVIDIA Tegra 3 quad-core processor. However, it seems that ASUS thinks the Vivo tablets need a big brother, so it teased the VivoBook laptop today, which also comes with Windows 8 and sports the same style and look as the Vivo Tabs.
According to a product page on the ASUS website, the laptop will officially be called the VivoBook X202, and will sport an Intel Core i3-3217U clocked at 1.8GHz with 4G of RAM. It'll also have a 500GB hard drive and an 11.6-inch LED HD display with a 1366x768 resolution. It'll have capacitive touch capabilities and multi-touch functionality as well.
However, it says it'll only have "Intel GMA HD" graphics according to the product page, which isn't fantastic, but if it includes GMA graphics that are towards the high end of the spectrum, it should be able to keep up the pace. Battery life also seems rather disappointing, claiming to get up to only 5 hours of life with a 2-cell battery.
Honestly, the VivoBook almost seems like a glorified netbook rather than a full-scale laptop. It reminds us of the company's 12-inch Eee PC 1201N from a couple years ago, which easily had comparable specs. Either way, the VivoBook X202 is available for pre-order as we speak from Amazon, Newegg, TigerDirect, and B&H Photo. The laptop can be yours for $599. The listings mention the VivoBook having "Intel HD 4000" graphics, which technically isn't the same as Intel's GMA series like the ASUS product page mentions, so we'll have to wait until the company's official announcement on October 23.
UPDATE: ASUS has also posted its TAICHI 21 up for pre-order. It's an 11.6-inch hybrid machine that comes with a 1.7GHz Core i5 processor, 4GB of RAM, and a 128GB SSD. It starts at $1,300.
[via EeePC.it]