Asus set to launch new thin notebooks with Intel 45nm CPUs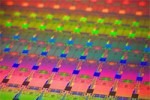 The netbook segment of the computer market is booming with sales of netbook computers growing much faster than the other segments of the computer market despite the poor economy. Netbooks are especially popular in developing countries.
The netbook has hurt sales of some ultra-portable computers that offer similar levels of performance as netbooks at prices that are often much higher than a netbook commands. Despite the slowdown in purchases of some ultra-thin and ultra-portable notebooks, Asus is reportedly set to launch a couple new ultra-thin notebooks with new Intel processors.
DigiTimes reports that Asus is set to unveil a couple new machines using the new 45nm Intel Celeron 743 processor and the SU2300 CPU on September 7. The publication cites industry sources and says that the new notebooks will initially only ship to Taiwan, China, and Europe. The CPUs used in the machines will sell for $107 for the Celeron 743 and $134 for the SU2300 in 1000 unit quantities. DigiTimes also reports that MSI and Acer will be offering systems with the same processors shortly after the September 7 date.