ASUS ROG Zephyrus aims for world's thinnest gaming laptop crown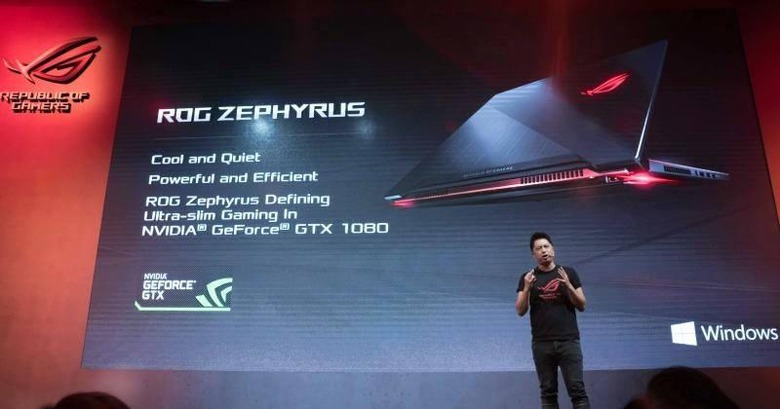 If there was a pervading theme at this year's Computex, it would be that gaming laptops can be powerful and slim too. From NVIDIA's announcement of its Max-Q design to the flood of gaming laptops all claiming to be the world's slimmest, PC gamers will actually have a problem of choice in trying to decide who to believe and which to buy. And here's one more to choose from. ASUS' Republic of Gamers just unveiled the ROG Zephyrus, which indeed be just world's thinnest gaming laptop. At least for now.
17.9 mm. That's how crazy thin this laptop is. Considering it is a gaming laptop, that's almost unbelievable. And yet here it is. No mention has been made of NVIDIA's Max-Q tech, though it wouldn't be a shock if it indeed made this gamer dream a reality. After all, NVIDIA did make an "18 mm thin" claim, which the ROG Zephyrus just made flesh. Or metal, rather.
It's no slouch either. At least as far as gaming laptops go. Inside is a 7th gen Intel Core i7-7700HQ. Though not the fastest, it's the most common Intel CPU you'll find in this generation of gaming laptops. Driving the graphics is the high-performance NVIDIA GeForce GTX 1080. To complement two, you can cram in DDR4 RAM up to 24 GB and add an M.2 PCIe SSD up to 1 TB.
The ROG Zephyrus goes on pre-order 27th June with a starting price tag of $2,699. A cheaper model will supposedly be available for $2,299, though the differences between the two have yet to be detailed.
For those who prefer more conventional gaming laptops, ROG also has two new Strix models to show off. The ROG Strix SCAR Edition boasts of an FPS advantage with a fast 120 Mhz, 5 ms screen, powered by a 7th gen Intel Core and an NVIDIA GeForce GTX 10 series GPU. The ROG Sitrix Hero Edition, on the other hand, is supposedly designed with MOBA players specifically in mind.