Asus ROG Mars video card hits America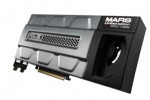 Video cards with multiple GPUs used to be common from NVIDIA. The company has got away from cramming more than one GPU onto a single video card with its latest products and the ones it did make had a reputation for driver issues when users tried to run more than one of the cards.Asus announced today that its limited edition multiple GPU video card called the ROG Mars is coming to America. The card was first seen at Computex 2009 and will be sold in limited numbers on a first come, first served basis. The card is based on the NVIDIA GTX 295 reference design and has a pair of GTX 285 GPUs crammed into the single, dual slot video card.
Asus claims that the Mars is 23% more powerful than conventional GTX 295 video cards and has an improved thermal design that adds 65% more heat pipe coverage. That additional heat pipe coverage equates to 20% better cooling. The card has 4GB of GDDR3 RAM and the core clock is 648Mhz, shader clock is 1476MHz, and the memory clock is 2.304 GHz. Only 1,000 of the limited edition cards will be made. Reports claim the cards will sell for about $1,000 each.