ASUS ROG CG6190 Gaming PC announced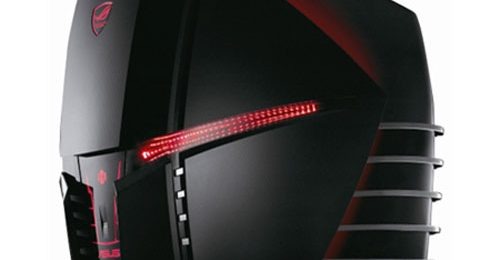 ASUS has just announced another gaming PC to add to their line up. The ROG CG6190 is a mid-tower that packs in the features and the power into an incredibly stylish package. I don't know what I like more, the bubbly body or the shiny red accents.
This PC uses the latest Intel Core i7 Extreme Edition processor with a X58 chipset running at 3.2GHz. A special overclocking feature lets you overclock 20% straight from the factory. Pretty cool stuff, there. It also features six memory slots, making for up to 12GB of RAM.
It also supports PCI Express for NVIDIA three-way SLI and ATI CrossFireX graphics cards. This thing means business! You have the option of a SATA II hard drive, making for 4TB of space. A 2kW dual power supply, liquid cooling, a fingerprint scanner, a SupremeFX X-Fi audio card and a casing inspired by body armor rounds out this gaming PC. We don't know a release date or pricing for the ROG CG6190 yet, but we'll be sure to let you know when we do.