Asus Republic Of Gamers Mars 760 Video Card Has Dual NVIDIA GTX 760 GPUs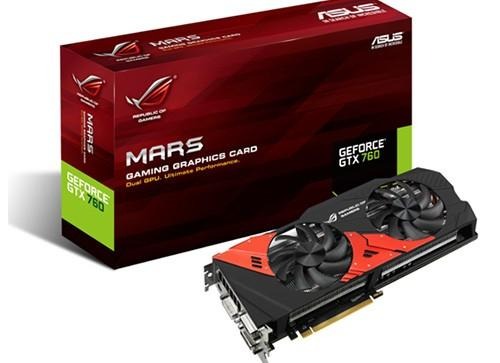 Asus has unveiled its latest video card called the Republic of Gamers Mars 760. This is a high-end video card that offers a pair of NVIDIA GTX 760 GPUs on one video card for improved performance. Asus says that the new video card will deliver faster gaming performance than the NVIDIA GTX Titan.
The video card has the power to support smooth and high resolution gaming. Asus claims that the Mars 760 is able to offer 14% more performance than the GTX Titan could muster. The video card uses a special DirectCU II cooling solution that has two fans allowing the card to be 20% cooler than similar video cards.
The dual fan cooling solution also offers quieter performance. The Mars 760 is a dual slot video card and has GPU Tweak software that allows gamers to overclock the GPUs for more performance. The Mars 760 is fitted with 4GB of GDDR5 video memory. The video card has LEDs that glow when the card is under load.
Asus uses its special DIGI+ voltage regulation module with a 12-phase power design that reduces power noise by 30% and enhances efficiency by 15%. With more efficient and stable power, gamers can squeeze more performance out of the card with overclocking. Asus has announced that the Mars 760 will launch in the first half of December and pricing will be announced closer to launch.
SOURCE: Asus