ASUS ProArt StudioBook Pro 15 launches with serious hardware and a high price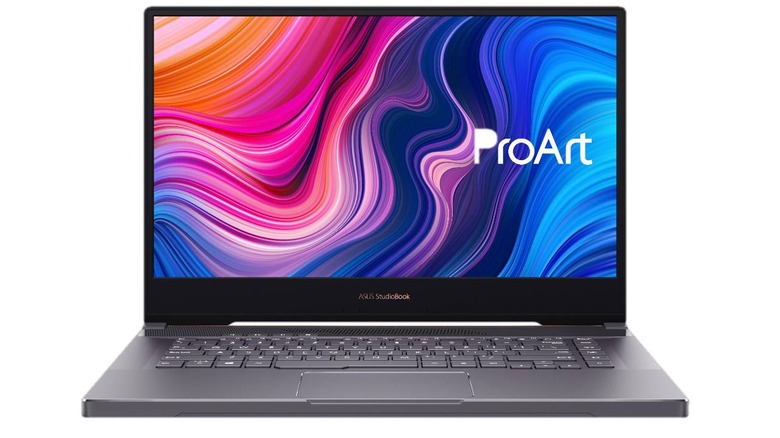 If you're in the market for a laptop that screams "Pro," then you'll be pleased to know that the ASUS ProArt StudioBook Pro 15 is now available to purchase. This is a laptop that's so "Pro" that ASUS put it in the name twice! It doesn't get much better than that, does it?
Jokes aside, it seems this notebook does indeed have the specifications to justify that rather long and redundant name. At its center, you'll find an Intel Core i7-9750H processor, which has been paired with 48GB of RAM and a NVIDIA Quadro RTX5000. If you're looking for a notebook with some serious hardware in it, it would appear that the StudioBook Pro 15 has you covered.
Despite that hardware, ASUS boasts that the StudioBook Pro 15 is the "most compact model of the StudioBook series" released thus far. That doesn't mean it's a super lightweight machine – weighing in at 4.37 pounds, it'll certainly have a bit of heft to it. The StudioBook Pro 15 has total dimensions of 14.17 x 9.92 x 0.74 inches as well.
As the name suggests, the IPS display on this machine comes in at 15.6-inches. Resolution maxes out at 3840x2160, though it is worth pointing out that refresh rate is limited to 60Hz. Buyers will have a pretty large array of ports on StudioBook Pro 15, including headphone and microphone jacks, two gen 1 USB-A 3.1 ports, 1 gen 2 USB-A 3.1 port, 1 USB-C port, an RJ45 LAN jack, and finally, an HDMI port.
Add in a 76Wh battery, a 2TB SSD, and a cooling system comprised of six heat pipes and four heatsinks and we've got ourselves quite a machine here. This is where we realize the cost of all that high-end hardware, though, as the StudioBook Pro 15 comes with a price tag of $3,999.99. If you're a content creator who needs a lot of power and that price isn't enough to dissuade you, you can find the StudioBook Pro 15 today at a variety of places, including Amazon, Best Buy, Newegg, and the ASUS Store.