ASUS P5N32-SLI Premium/WiFi-AP - nForce 590 SLI For Intel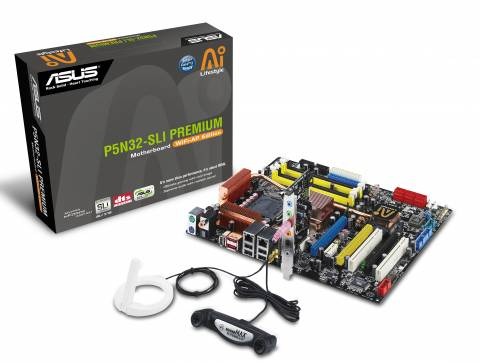 Those who are waiting for SLI motherboard to go with their Core 2 Duo CPU will be very happy to know that Asus has finally get their buns together and roll out P5N32-SLI Premium/WiFi-AP for Intel. The motherboard is using nForce 590 SLI Intel Edition and it's Quad SLI ready. Gamers who are planning to bump up your fps and gfx power with Physics Card will be grateful to know that ASUS P5N32-SLI Premium/WiFi-AP will have one reserved PCI Express x16 slot for it.
"The P5N32-SLI Premium/WiFi-AP is a gamer's dream up true. It is Quad-SLI ready and supports the Intel Core2 Extreme processor, providing superior processing power for the most graphics resource-hungry applications. The motherboard incorporated three PCI Express x16 slots (two for SLI-ready dual-GPU graphics cards and one reserved for Nvidia's Physics card) to enable unparalleled graphics performance and gaming realism."