ASUS HiveSpot and HiveDot eliminate home WiFi dead zones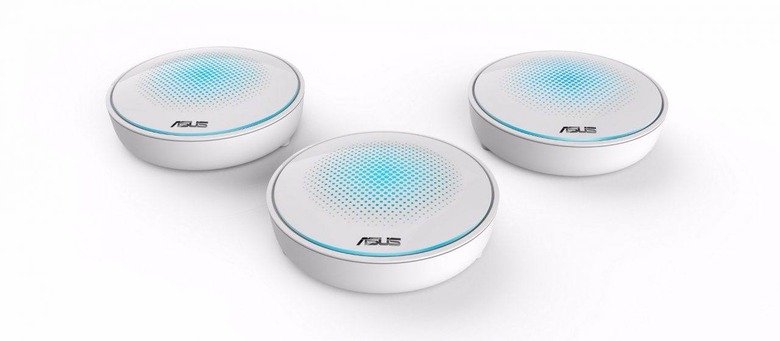 Among its CES wares is the ASUS HiveSpot and HiveDot mesh networking system, something the company describes as a modular and high-speed solution for home networks that'll get rid of poor connections and dead zones in one's residence. The system is comprised of HiveSpot and HiveDot 'nodes,' of which at least three are required to get a home mesh network up and running. The system maxes out at five nodes.
The system allows home owners to use one of two setups. A node, which looks like an attractive glowing puck, can be connected to your existing Internet router with a gigabit LAN connection, or one node can be configured as a router itself, with the other nodes all being slave nodes. These slave nodes 'intelligently organize and extend the wireless network,' says ASUS, to make sure it is available all throughout the house.
ASUS goes on to describe its HiveSpot system, saying there are seven smart antennas that make it suitable for both large houses and even places where there are multiple floors that need covered. HiveSpot can be combined with the maker's AiRadar for focusing WiFi signals at connected devices.
HiveSpot offers both dual-band AC1300 WiFi and a dedicated 5GHz band for up to 867Mbps internode communications, says ASUS. The system utilizes a related mobile app, which is used for installing and setting up the HiveSpot arrangement. Parental controls are made available through the Smart Family Insights function, as well, for controlling what sites can be accessed and monitoring who is doing what on the network.
Pricing and availability wasn't detailed.
SOURCE: ASUS