Asus has four new products coming to market soon
There is the 14.1" F8S that weighs 5.5 pounds. It has a C2D T7500 processor, 2GB of DDR2, 1GB of Turbo Memory from Intel, a Radeo HD2600 mobile with 512MB of video RAM, 250GB HDD, WiFi of the a, g, and n varieties, and Bluetooth 2.0+EDR.
Next is the R2E, a 7" UMPC that has an 800x480 resolution. It has Intels 800MHz A110 processor in it, along with the 945GU Express chipset which were made for UMPCs. It also has 1GB of DDR2, 80GB of storage via an HDD, 802.11G, Bluetooth 2.0+EDR, HSDPA, GPS, and a 1.3 megapixel webcam.
Then there is the U6S, which is a 12.1", 3.3 pound, ultraportable notebook. The screen is LED backlit, which should help with the 5 hour battery life off of the 6 cell battery. It has an Intel C2D T7500 processor, 2 gigs of DDR2 RAM, a nVidia GeForce 8400M video card with 128MB of VRAM. There is also a 250GB HDD, HDMI-out, 802.11 in the same three flavors as the F8S which is a/g/n, Bluetooth 2.0+EDR, and HSDPA.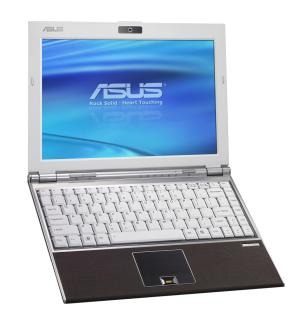 Last, but not least, the gaming rig, with a battery, the G2S Extreme Limited Edition. This behemoth is 17.1 inches, has a 2.6GHz C2D X7800 processor, 2 gigabytes of DDR2, a gig of Intel's Turbo memory, a 256MB nVidia GeForce 8600 mobile graphics card. There is also a 200GB HDD, HD-DVD/ dual layer DVD burner, an analog/digital TV tuner, HDMI-out, 802.11a/g/n, and Bluetooth 2.0+EDR.
That's a lot of really nice new hardware. They will all be available in October, the prices however vary, the U6S will run you 1999 Euros, the R2E will run you 1199 Euros, the G2S Extreme Edition will be 3499 Euros, and lastly, the F8S will run you 1599 Euros.
Asus Announces Four New Mobile Products [via dailytech / Notebook Italia]