Asus gets all thin and stuff with UL series notebooks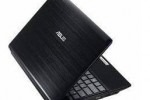 Asus has been making notebooks for years but only really became a name recognized by many consumers in America when it helped launch the netbook revolution in late 2007. Asus' brand recognition has boomed since the Eee line of netbooks became popular and now the company is offering many more full notebooks in America.
Asus today has unveiled its latest line of thin and light notebooks called the UL series that use Asus exclusive Turbo33 technology. Inside the notebook line hides the Intel SU7300 CULV processor. The notebooks themselves have brushed aluminum chassis' that are less than an inch thick and weigh three pounds.
The Turbo33 technology allows the user to get 30% more processing power from the notebook and over 12 hours of battery life. The machines also feature graphics that can be switched from discrete to integrate depending on the needs of the user. The CPU used is a 1.3GHz dual-core unit and graphics care via NVIDIA GeForce 210m with 512MB of VRAM. Asus didn't offer an exact launch date or pricing information on the new notebooks.