Asus Eee With XP Coming To Best Buy In 9 Days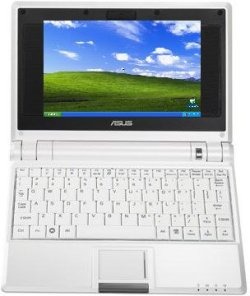 The 4GB 7-inch Asus Eee PC will be hitting Best Buy, a major retailer of computers and their components, on April 9th. This particular system will come with Windows XP pre-installed for $399, which basically means these things should start selling like hotcakes once they hit the shelves.
The system has 4GB of SSD storage and half a gig of RAM which push Windows XP Home boot times to a respectable 40 seconds. Other upsides to the XP version of the system are that you can now use the webcam for video chat functions, you can use the entire Office suite instead of having to settle for something similar, and you get WWAN modem support as well as everything else you've come to expect with such a system.
The downside is that the 1.8GB that the Windows XP installation takes up limits you to 2.2GB of spare storage space which is likely to be taken up by apps and documents that you use frequently. However there are 3 USB ports and an SD/MMC card reader that you can use to expand the storage space on the unit, personally I'd probably start by using the SD card storage space, and then I always have my 32GB Corsair Survivor flash drive with me, so between those two, I'd probably have plenty of storage space to do whatever I wanted to. I think it would be better if they installed XP Pro on it instead of XP Home, but the differences are fairly minimal and if Home is what it takes to keep the price the same as the Linux versions, than that's sufficient for me.