ASUS Eee PC 701SDX is a mystery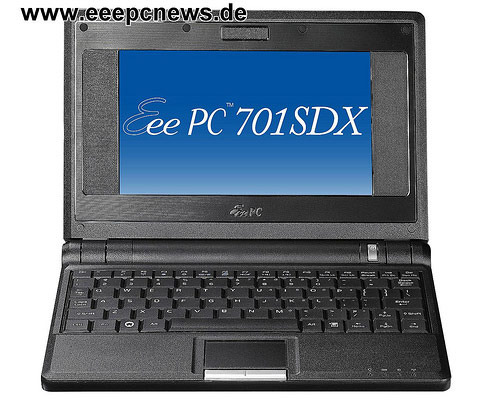 We've been hearing about a super-budget Eee PC as of late, and while nothing has been made official yet, Eee PC News did uncover a photo of a device that no one has heard of yet that might be this very budget device. 
It's called the Eee PC 701SDX and many are thinking it will cost less than $300. It looks like it will have a 7-inch display to cut costs. Another notably missing item is the webcam–another good way to cut down the price.
No specs have been release for this model but there is also speculation that the current Celeron processor might be replaced with an Atom processor. Hard drive size is expected to range between 4GB and 8GB. Luckily, ASUS has a good habit of releasing official information shortly after any leaks, so we'll know the answers to our questions pretty soon.
[via Engadget]