ASUS Eee PC 1000HA gets new keyboard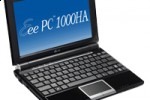 ASUS announced today that they would now be offering their super popular Eee PC 1000HA netbook model with a new addition: a chiclet-style keyboard that's more comfortable and easier to use.
Prior to the update, some of the keys were in non-traditional places, making typing by touch difficult. But that's remedied now, and the 92% keyboard feels comfortable and responds easily and accurately since the keys are separated and blocky.
Battery life has also been increased to 7 hours thanks to energy-saving components like the Intel Atom processor, the LED-backlit display and the Super Hybrid Engine or SHE, which lets you adjust power consumption as you see fit. Other specs include 1GB of RAM, a 10.2-inch screen with a 1,024 x 600 resolution, a 160GB HDD, Wi-Fi B and G and 10GB of online storage. You can get the revised Eee PC 1000HA now for $349.