ASUS Eee Pad Slider Shows Up In August Catalog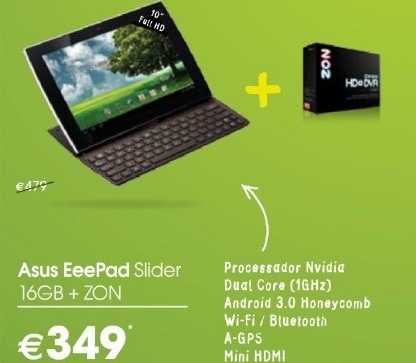 The ASUS Eee Pad Slider will be the first of its kind with an innovative slide-and-tilt keyboard to spice up the common tablet form factor—now if only it would show up already. It's been delayed from summer to fall and now signs of its imminent release are finally cropping up. The device has just been spotted in the August catalog for Portuguese electronics retailer Phone House.
The ASUS Eee Pad Slider first debuted back at CES alongside the ASUS Eee Pad Transformer, which has since launched and reaped great success. It's not clear why the Eee Pad Slider is taking so long to launch, but speculation suggests some problems with its slide-and-tilt mechanism. Another possible factor is a switch from NVIDIA's Tegra 2 chipset to Intel's Oak Trail Atom Z670. However, none of this has been confirmed.
In Phone House's August catalog, the Eee Pad Slider is listed at €349, the equivalent of $467 on contract with ZON. Off contract, the Slider goes for €479 or $684. And although it's been given an August release for the UK but not in the US, its recent journey through the FCC in the states suggest its on the way here as well.
And in case you're not familiar, the ASUS Eee Pad Slider is a 10.1-inch tablet with a 1280x800 resolution, 1.2-megapixel front-facing camera, 5-megapixel rear-facing camera with LED flash, and plenty of ports, including a mini-HDMI, mini-USB, and microSD card slot. For more details, you can take a look at our hands-on video with the Eee Pad Slider.
[via Engadget]