Asus drops CG8490 gaming desktop along with G53 and G73 notebooks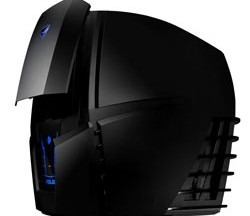 Asus has unveiled a new line of Republic of Gamers notebooks and a new gaming desktop at Computex 2010. The desktop is the CG8490 and it has 20% overclocking capability for its internal components like the Core i7-980X 6-core CPU, 12GB of RAM, and the dual overclocked Radeon HD5870 video cards. Pricing and availability are unknown.
Along with that new gaming desktop Asus also showed off new gaming notebooks. One of the ROG notebooks called the G53 has a 15.6-inch screen and support for full 3D gaming with HDMI 1.4 support. The Asus G53 gaming notebook is the world's first 15-inch gaming notebook with a NVIDIA 3D Vision-enabled GPU.
The Asus G73Jh notebook has an illuminated keyboard for gaming in the dark and is designed to have a style reminiscent of the F117 stealth fighter. The machine supports 1080p and is 3D ready. Asus isn't specific on which GPU is inside the G73Jw only stating that it's the next generation GPU. Pricing and availability on the notebooks is unknown.