Asus announces Four 16:9 VH-series LCDs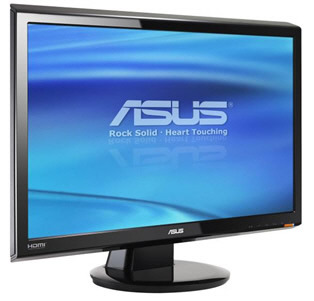 Another batch of 16:9 LCD-panel monitors reveled today. Asus has announced a family of four monitors ranged from 18-5" to 23.6-inch with increasingly popular 16:9 widescreen panel that maximizing production efficiency, but crop out chuck of resolution compare to a 16:10 panel. All four piano-black models are capable of boasting 300 cd/ms2 luminance brightness, and are designed to deliver deep black movies playback and ultimate gaming experiences thanks to its aggressive dynamic contrast feature and ultra fast panel response rate.
The smallest LCD in the VH-family measures in at 18.5-inch size; the VH192 features a WXGA (1366x768) resolution widescreen panel with 10000:1 contrast. It's the only VH-member that doesn't get a HDMI input but will come equipped with DVI-D and VGA terminals.
The rest of the LCDs are all Full HD 1080P monitors with 1920x1080 screen resolution. On top of the 12,000:1 high contrast capability; the 21.5-inch VH226 incorporates a Color Shine glare-type panel, much like a glossy panel that enhances image color and contrast, thus it's more suitable for movies or gaming purposes. The latter two, VH222 (21.5-inch) and VH242 (23.6-inch) get extra boasted with 20,000:1 contrast and has digital SPDIF audio output.
Though restrained with its narrow view angles of 160/170 (TN panel), Asus VH series LCDs are good candidates for multimedia display. It's said to equip with Asus's exclusive Splendid Video Intelligence technology (dynamic color and contrast control) and manage to deliver stellar performance despite its green power designs.
Mum's the word on price and availability.