Astro A50 wireless gaming headset works with PS4/ PC and Xbox One/PC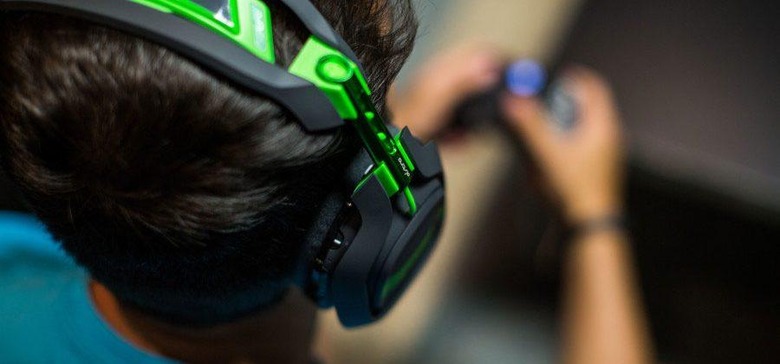 Astro Gaming has unveiled a new wireless gaming headset that will work with the PS4 or the Xbox One and your PC for gaming wherever you feel like playing. The headset is called the A50 Wireless and it has a base station that supports the PS4 and PC or Xbox One and PC. The headset transmits on a 5GHz frequency for reduced latency thanks to a less crowded spectrum.
The headset supports 7.1 Dolby Surround so you can hear your enemies approach in the game. Power for the cordless headset comes from an internal lithium-ion battery good for 15 hours of play per charge. Another nice feature is a rear 3.5mm input and output that allows the user to listen to music over the headset or output game audio and chat to external capturing devices.
The PC/PS4 version of the headset is blue/black color and the Xbox One/PC version is gray/green color. The headset needs no chat cables for the consoles. Astro audio promises extended frequency spectrum with highs that are non-fatiguing, clear mids, and tight bass for balanced resolution. The A50 microphone is flexible and durable and is optimized for the consoles and to work with Windows 10.
The headset also has an accelerometer inside allowing it to detect motion and turn itself off when not in use. The A50 supports Astro's mod Kit allowing users to upgrade to synthetic leather noise-cancelling ear cushions and a padded headband. The software controlling the headset is Astro Command Center and is updateable. The Astro A50 headset will launch in August at an undisclosed price. Gamers interested in getting the headset can sign up for notifications at the manufacturer's website. Check out the video below to learn more about the A50 Wireless headset.
SOURCE: Astro Gaming