Aston Martin Vantage AMR has a 7-speed manual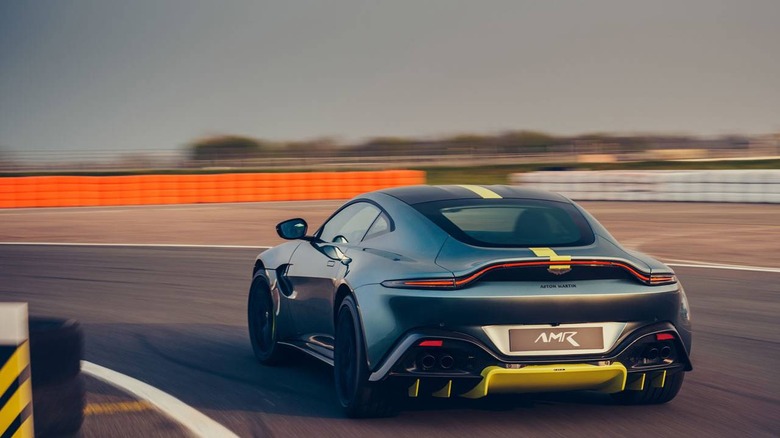 Aston Martin has unveiled a new sports car, and this one is meant to celebrate manual transmission performance. It has a 7-speed manual transmission and can reach a top speed of 195 mph. Aston says the Vantage AMR can hit 60 mph in 3.9-seconds.
The Vantage AMR is a special and limited edition car with only 200 units being made for global consumption. Of that 200 units, 59 of them will be Vantage 59 specification. All versions use the same 4.0L twin-turbo V8 making 510ps and 625 nm of torque.
The Vantage 59 version has a special livery to celebrate the 1959 24 hours of Le Mans. The special manual transmission inside the car has a dog-leg first gear. The car has a limited slip differential that is tuned and calibrated by Aston. The 7-speed manual transmission has AMShift Technology that is driver selectable.
That feature uses the clutch, gear position, and prop shaft sensors to mimic heel-toe downshifts and match revolutions. The point is to make gearshifts and cornering smoother and to provide minimal interruption to acceleration. While Aston removed the automatic transmission and added a manual, it also added carbon ceramic brakes as standard. The loss of the automatic and the carbon ceramic brakes shave 95kg from the car. Of the 141 Vantage AMR cars that aren't the Vantage 59 specification, there will be only a few color options.
Colors include Sabiro Blue, Onyx Black, China Grey or White Stone. Aston says that the Vantage 59 will sell for $204,995 and that it is offered on a first come basis. The other rides will sell for $179,995 in the US. Aston says that the Vantage will feature a manual gearbox as an option starting in Q1 2020. Vantage AMD deliveries will begin in Q4 2019.