Assassin's Creed IV Black Flag pre-order bonuses tipped at GameStop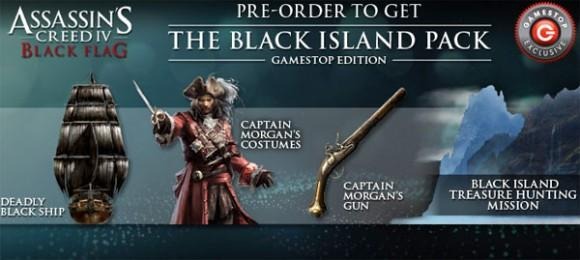 The official launch date for Assassin's Creed IV Black Flag will be here before you know it. We already know that the game will launch on October 29. If you haven't pre-ordered the game, GameStop is offering up some interesting exclusives to people who pre-ordered that may have you reaching for your credit card. One of the special offers is an upgrade offer allowing Xbox 360 gamers to trade their standard version of the game for the standard Xbox One version or only $9.99.
That means you can buy the game for your Xbox 360 and then upgrade on cheap to a copy for the Xbox One. The biggest pre-order bonus is an exclusive Black Island Pack. That exclusive pack includes the Deadly Black Ship, Captain Morgan's costumes, Captain Morgan's gun, and the Black Island treasure hunting mission.
If those items aren't enough to get you to buy, you can also get an additional 30% in-store credit for trading any items towards a copy of game. GameStop is also offering an exclusive limited-edition of the video game that gives some additional special features.
The limited-edition version of the game includes an 18-inch statue of Captain Edward Kenway. Buyers also get an embroidered 28 x 48-inch Assassin's Creed pirate flag with crest. Other items in the limited-edition include an 80-page art book, Steelbook game case, and the game soundtrack. The limited-edition costs $129.99 while the standard edition sells for $59.99.
SOURCE: GameStop