ASRock Beebox Mini PC Has An Intel Cherry Trail SoC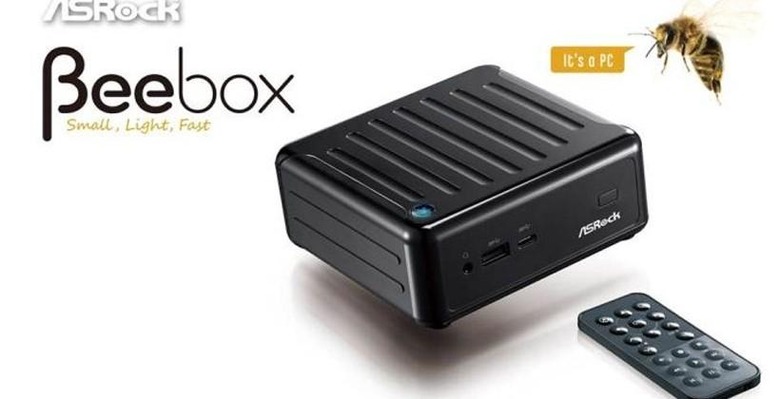 There are many reasons that a person might settle for a PC that takes up less space even though the performance of that PC isn't what you would consider powerful. Sometimes a machine that takes up little space is the most important thing. One of the smallest PCs that you can currently get your hands on is the new AS Rock Beebox. The machine uses an Intel Cherry Trial processor under the hood of its tiny 0.6L chassis.
To put the machines small stature into perspective, it measures a scant 110mm W x 46mm H x 118.5mm L. It also ships with a small bracket that will allow you to mount the machine behind a TV or PC monitor. I mentioned that the processor was an Intel Cherry Trial unit, specifically it has an Intel Celeron N300 running at 1.04 GHz, but able to reach up to 2.08GHz with turbo.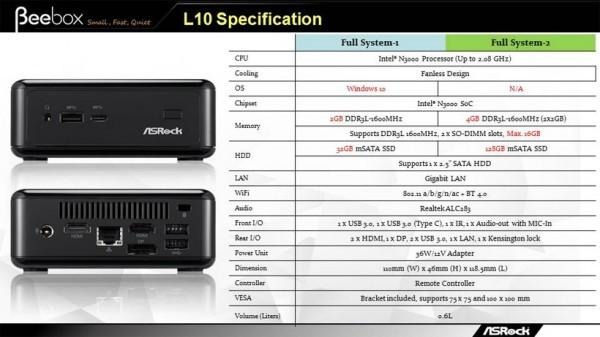 That processor has a 4W TDP meaning it is a fanless unit for silent operation. Other hardware features include 2GB of DDR3L 1600 MHz RAM and storage is to a 32GB mSATA SSD. There is space inside for a single 2.5-inch SATA HDD or SSD.
Video outputs include dual HDMI and a single DisplayPort output. USB 3.0 Type-A and USB 3.0 Type-C ports are available. ASRock will offer two different versions of this machine; one will come with Windows 8.1, with a Windows 10 upgrade. The other will have no OS and a larger 128GB SSD inside. Pricing is unannounced, but the machine will be available at the end of June.
SOURCE: Anandtech