'Ask Ziggy', the Windows Phone rival to Apple's Siri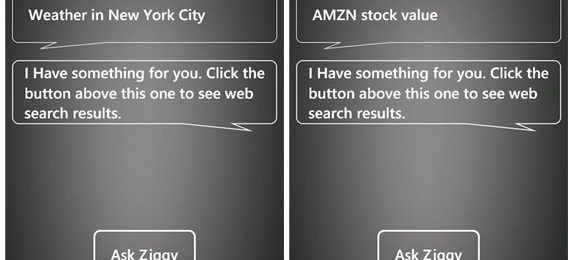 Well, Windows Developer Shai Leib has jumped into the fray, and has introduced a Windows Phone app, dubbed 'Ask Ziggy', that, for all intents and purposes, attempts to rival Apple's Siri personal assistant app for the iPhone 4S. Similar to Siri, Ask Ziggy uses voice recognition technology instead of conventional text entry for search queries. Users can search for directions, flight statuses, financial stock prices, weather, calculation results and other data, using the app on a device running WP7.
Though Ask Ziggy's user interface shares the same rudimentary design as that of Siri, putting query results in chat bubbles, the app does not directly imitate the icons and name of Apple's alternative. On the Google side of things, A "Siri for Android" app just appeared on the Android Market days ago, but turned out to be only a shortcut to an app.
"Ask Ziggy" is reported to use Nuance's voice recognition engine, which is paired along with other algorithms that comb search results for relevant responses and answers (hopefully, not as weird as those that Siri sometimes pulls up). However, when a direct answer cannot be found, users are provided with a link to the search results for that particular question. But at the moment, Microsoft has yet to offer their own solution, despite the supply of third-party Siri clones for the Windows Phone platform.
[via The Next Web]