Artist makes surfboard out of 72 beer cans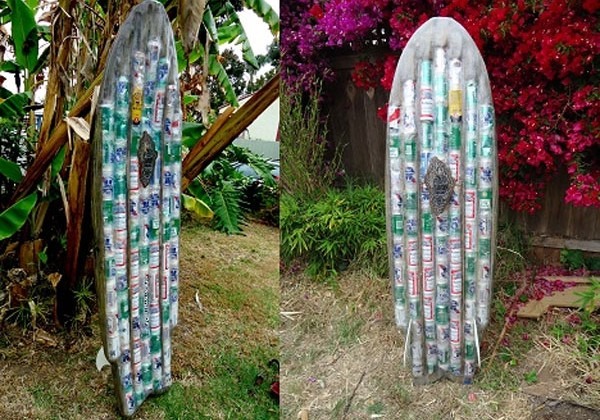 DIY art is cool and when it involves the ocean and beer, it may be the perfect DIY project for the summer. Artist Rich Morrison took the sort of trash generated by many summer days at the lake or beach for many folks – beer cans – and used those cans to make something pretty cool. Morrison took 72 different beer cans and used them to create a surfboard for riding the waves that actually works. At least it works for him; the board wouldn't work for me at all unless its purpose was to dump me on my head in the surf.
Morrison calls the project the Beer Can Surfboard, which is exactly what it is. The cans used in the project were collected from a local bar and include Budweiser, Modelo, PBR, Rolling Rock, and Boddingtons Pub Ale cans. Morrison worked with surfboard maker Gary Seagraves on the project. I know nothing about surfboards other than what I learned watching the new Hawaii Five-O so I'm not sure if this board uses normal build materials or not. The cans appear to be inside some sort of clear resin.
The board is long at 6'2" and uses a rocket fish design with two fins and a swallow tail. I wonder if they have actually tired the board out on the waves to see if it works. It looks really cool, but I wonder how comfortable it would be to stand on. It looks like the resin follows the curve of the cans so the board has ripples like a pool float would. This is a cool example of recycling trash into something green and useful.
[via TreeHugger]