ARRIS reveals SURFboard mAX Pro tri-band WiFi 6 mesh system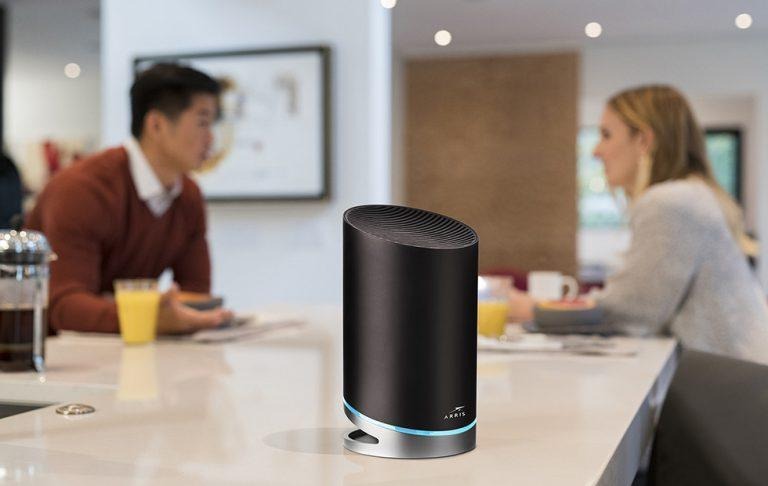 Arris has unveiled SURFboard mAX Pro, a tri-band WiFi 6 mesh networking system for residential homes. The new system brings high-speed Internet into every room in the home — a single router covers 3,000sqft — with the promise of less interference than competing dual-band systems. Arris calls its new system the "most advanced" in the world, one that will be available to purchase in the first half of 2019.
Arris has future-proofed its SURFboard mAX Pro with WiFi 6 capabilities, offering four times the range and 400-percent the speeds of 802.11ac WiFi 5. This mesh system can offer multiple Gigabit wireless speeds, making it suitable for homes with multiple 4K TVs, gaming consoles, and anticipated future products like 8K streaming.
The SURFboard mAX Pro features an ARM 1.8GHz quad-core 64-bit processor, as well as three 4x4 WiFi 6 radio, each of those sporting a 1.5GHz ARM processor. As well, the system features a 4-port Gigabit Ethernet hub, 2Gbps WAN link aggregation, and backwards compatibility with 802.11a/b/g/n/ac.
The mesh system is offered with two routers, which Arris says can blanket 7,000sqft with high-speed WiFi — this ensures multi-level homes have adequate connectivity across each level. Devices using WiFi 6 will benefit for it, experiencing up to seven times the efficiency to cut down on battery consumption.
This the first ever tri-band router to offer four WiFi 6 antennas; the presence of three bands and the overall mesh tech ensures each device is directed to the fastest connection at any given time. Despite this, Arris says its system doesn't require external antennas, the result being a modern-looking cylindrical device that'll blend in with existing speakers and other gadgets.
Arris plans to offer the SURFboard mAX Pro mesh system in the first half of 2019; price hasn't been revealed.