Army's first UAS 'Hunter' retired this month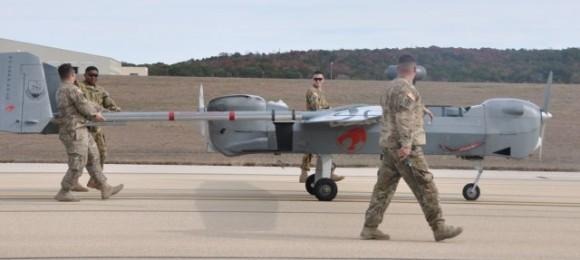 The U.S. Army retired its first Unmanned Aircraft System (UAS) this month, doing so with a formal ceremony to mark the end of "Hunter" and its long years of service. The drone took its last flight on December 16 at the Robert Gray Army Airfield, and was called a "valuable" tool for commanders and troops alike. Describing his role, Hunter's operator Staff Sgt Zachary Norris said, "We're like the 'Eyes in the Sky' for the ground troops."
Hunter was used for surveillance and reconnaissance purposes, and featured an enhanced imagery system for gathering real-time data about targets, battlefields, local conditions, and more. The drone was used to locate and track targets for other systems, and to find friendly forces that might be positioned in a specific area.
According to the U.S. Army, this was the first drone it actively used, with its missions starting in 1995 and continuing at various Army bases since then. Hunter was first used at a couple of Army training centers, but later was used in the Balkans in NATO support and peacekeeping missions. Later on, Hunter was used during the start of Operation Iraqi Freedom.
Hunter was the first Army UAS to operate inside Iraq, and it operated across several simultaneous deployments. Over time, the drone was upgraded with newer systems and sensors and service when needed. Says the military, Hunter had more than 110,000 flight hours in 2011 by the end of Operation New Dawn. Next year, the 15th Military Intelligence Battalion will received a new drone, the Grey Eagle UAS which can fly for 25 hours at a time at up to 167 knots and heights up to 29,000ft.
SOURCE: Army