ARM shows off roadmap and reveals ARM Eagle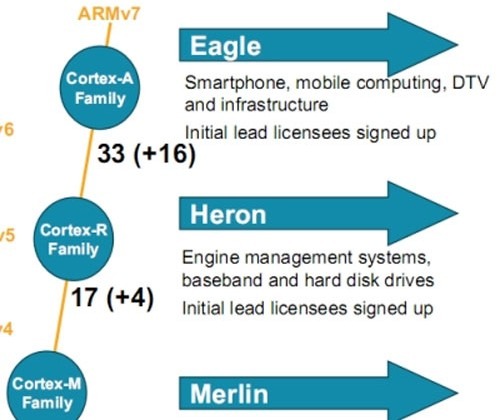 ARM makes processors and other hardware that are used in all manner of electronic products. The ARM Cortex A9 will soon find a home inside some of the coolest gadgets around. During the ARM Q4 2009 earnings call the company showed off its roadmap for 2010.
On the roadmap were new products that the company is working on including the Eagle, Heron, and Merlin. Devices running the Cortex A9 haven't hit the market just yet and we are already looking forward to seeing the Eagle land. Eagle is based on the architecture shared by the Cortex A8 and A9.
The new A9 is said to be anywhere from 30% to 100% faster than the previous Cortex A8. Eagle promises to take the A9 and make things even faster. IntoMobile figures that we won't see the Eagle in products until around 2012, but it's cool to see what the company is working on for future products.