ARM dual-core Cortex-A15 in late 2012 and quad-core parts "later"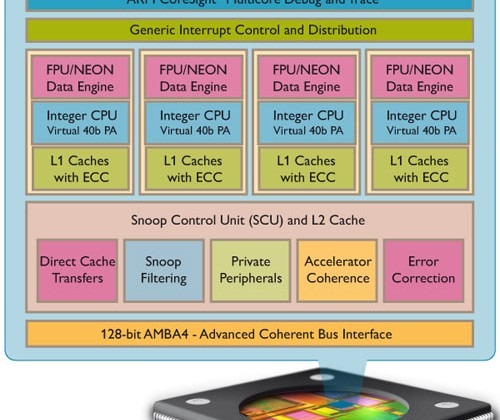 When it comes to processors for all sorts of smartphones and tablets ARM parts are right at the top of the most used list. That means that there are a lots of smartphone makers that are constantly on the lookout for what the next big thing from ARM will be. ARM has offered up its latest roadmap that outlines the processors coming from it in the future.
One of the most notable facts from the roadmap is that the next gen ARM Cortex-A15 dual core processor had been moved up. Moving a product to an early release is a welcome change from the new products that are often delayed. The A15 will come in both dual-core and single core versions.
Perhaps even more tantalizing is that ARM has noted that a quad-core version of the A15 will land "later" according to Engadget. That quad-core part will probably not be available until sometime in 2013. ARM claims that the new processor will offer a five times improvement in performance. Samsung, ST-Ericsson and TI are already licensing the tech.
[via Engadget]