Are you ready to rock?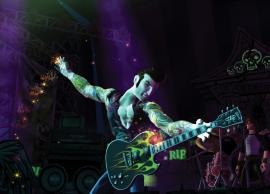 I'm a Guitar Hero, and you can bet tonight I'll be waiting in line for my copy of Guitar Hero II for the Xbox 360. As I was scouring the net I discovered that Harmonix has something else in the works for us "heroes." Their new title dubbed Rock Band will let you take over all the aspects of a band with guitars, drums and vocals.
If that wasn't enough to get you excited, they are working with big music labels like EMI Music and Sony BMG Music to get big name songs and secure the master tracks. No more poorly done covers. You'll be playing the real thing. And for the icing on the cake: online play! That's right, you can rock out with band members from around the globe.
Look for Rock Band around Christmas this year for the Xbox 360 and PS3. Just don't get offended when your friends call a band meeting to inform you that you're tone deaf.
Guitar heroes unite, Rock Band is coming [via crave]