Arduino launches Esplora open source controller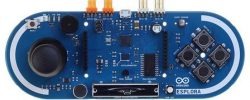 Tinkerers take note, because Arduino has launched its new Esplora controller, which just so happens to be customizable and open source. The Esplora is derived from the Arduino Leonardo, but unlike its predecessors, it comes equipped with a number of sensors and buttons out of the box. That means it should be at least relatively easy to just jump in once your Esplora arrives.
Among other things, the Esplora comes with a temperature sensor, an analog joystick with a central push-button that's reminiscent of the clickable joysticks on the Xbox 360 and PS3, a set of four push buttons, a three-axis accelerometer, a buzzer, and a microUSB port. On the upper left corner of the controller is where you'll find the reset button and a group of LED status lights. The Esplora is also expandable, as it features two TinkerKit inputs and outputs, along with a TFT display connector, so you can connect a color LED screen or an SD card.
Since the board is already equipped with everything it needs to run, all you'll have to do is connect it to a computer using the microUSB port and you're on your way. Users can program the Esplora using Arduino's downloadable software, and the company has set up a getting started page for those who are eager to get things moving. It can also appear as a regular old keyboard and mouse when connected to a computer, which means there are potential applications beyond just gaming for the Esplora.
It's relatively inexpensive too, with the standard edition coming in at €41.90 ($54 US) and the retail edition demanding €44.90 ($58). It should be compatible with all of Arduino's software as well, so this is one user-friendly controller. Are you planning on picking one of these up?