Arduino Announces Super Small Micro Board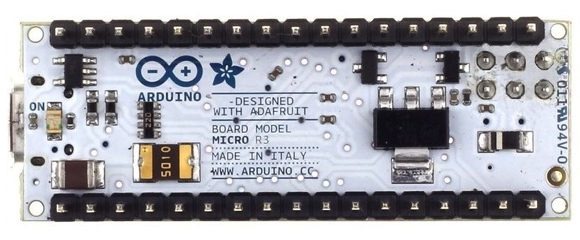 Arduino has announced its new Micro board, which is based on the technology of the popular Leonardo board while offering a "very small size." The Micro can either be soldered to a PCB or used on a breadboard, making it easier to embed in projects. The board will be available next week for pre-order, with shipments starting on November 26th.
Just how small is the Micro? It measures in at 1.9-inches x 0.7-inches (48mm x 18mm). The board is based on the ATmega32u4, and has a built-in USB. It features 20 digital I/O pins, seven of which can be utilized as PWM outputs, and 12 of which can be utilized as analog inputs. Theres a micro USB connection, and connecting the board to your computer via USB is all it takes to get up and running.
Other features include a 16GHz crystal oscillator, an ICSP header, and, of course, a reset button. There are code libraries for emulating the device via USB-HID as a keyboard, for example, or a mouse. It's operating voltage is 5V, and its memory clocks in at 32kb (4kb bootloader). Clock speed is 16MHz. Currently, Adafruit is creating accessories for the board "that will complement its power and simplicity."
The Micro will be available with headers (21EUR) and without headers (18EUR). The version with headers is model number A100053, and the version without headers is model number A000053. As for Arduino, it launched in 2005 and has been a staple of hobbyist and independent tinkerers. The board will be available via Radio Shack and Adafruit first, spreading to other retailers in December.