Arcimoto SRK EV is a motorcycle/golf cart/car mashup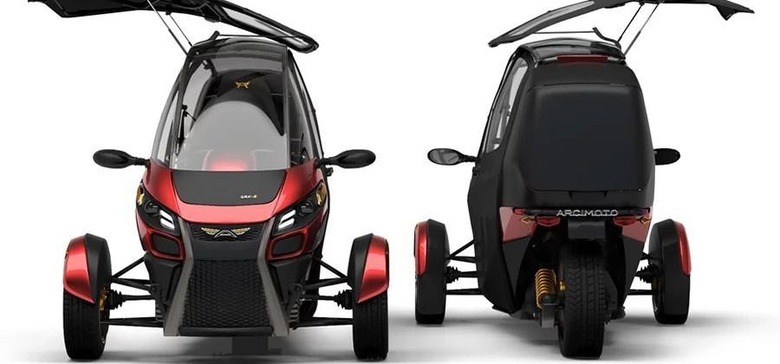 The eighth version of a little vehicle that is powered by batteries called the SRK has been unveiled by the Oregon-based manufacturer of the vehicle. The EV is affordable and looks like a mix of a car, golf cart, and a motorcycle all rolled into a three-wheel EV designed for getting around sans gas. The SRK is a reverse trike with two wheels in the front and a single wheel outback.
The controls are all from a motorcycle with handlebars that feature throttle and brake levers. The seats are also inline like a motorcycle but they look more like seats you would find in a car. The entire vehicle weighs in at 1,023 pounds.
Fuel economy is rated at 230 MPGe and the little vehicle has decent enough performance with the ability to reach 60 mph in 7.5 seconds and has a top speed of 85 mph. All the power goes to the front two wheels of the car and the electric motors are located up front. The base model of the EV has a 12 kWh lithium-ion battery pack and when filled up with two humans and a bit of gear it can drive 70 miles on a charge.
An optional 20kWh battery pack can push that figure to 130 miles. The machine has a full roll cage around the passengers and there are optional side panels to keep the weather out. Buyers can opt for a package shelf that replaces the rear seat. Pricing starts at $11,900 and the vehicle hopes to come to market in the next few years.
SOURCE: Gizmag