Archos outs 70b Internet Tablet packing Android 3.2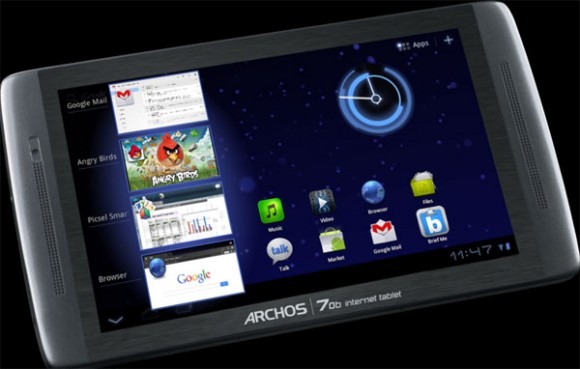 Archos has unveiled a new internet tablet in the UK. The tablet is called the Archos 70b internet tablet. It sells for £179.99 and runs on the Android Honeycomb OS. The 70b is a new and enhanced version of the older Archos 70 internet Tablet. The new 70b has a 1.2GHz processor and it has access to the full Android Market. Update: The Archos 70b Internet Tablet will drop in the US next month, priced at $199.99.
Full Market access gives you access to all 300,000 apps on the Android Market. The tablet has a 7-inch screen with a resolution of 1024 x 600, which is a higher resolution update to the original tablet screen. The 70b has 512MB of RAM onboard allowing for better multitasking and a smoother web experience.
The 70b tablet will also get WiFi and 3D graphics acceleration. It comes with some apps on web browser and email integrated. Other features have HDMI output and microSD connectivity. That HDMI output will let you shoot content out to your TV.