ARCHOS Hello Google Assistant Smart Display greets MWC 2018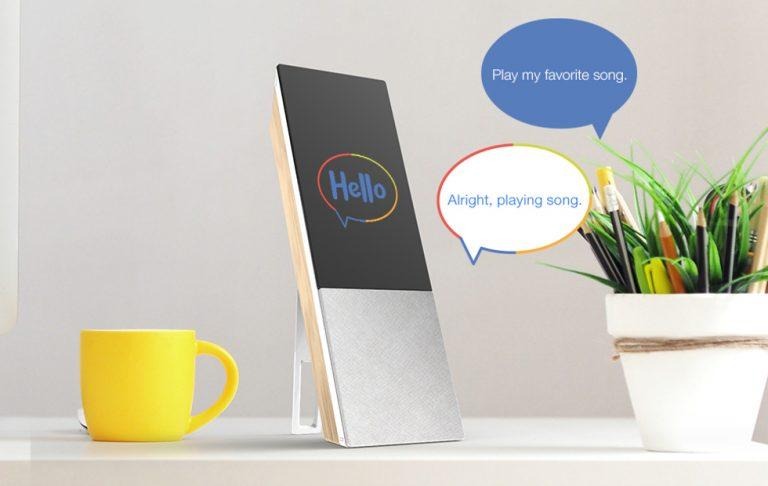 Move over smart speakers. Smart displays are in the house! Rated as one of the fastest growing segments in the tech market these days, smart speakers of all shapes, sizes, and prices have invaded both homes and store shelves. At CES last month, Google took up Amazon on its Echo Show challenge and announced a new subclass of connected devices: smart displays. Better late than never, French manufacturer ARCHOS is joining the fray at MWC with its Hello smart display and speaker in one. Not only that, it also has another trendy device to cater to those still holding out for bitcoins and their kin.
You can be forgiven if you feel a sense of deja vu. The ARCHOS Hello will probably call to mind the design of Lenovo Smart Display at first glance. Of course, that only lasts for a few seconds until you discover how much longer and narrower ARCHOS' version is. Depending on which model you get, you either have an 8.4-inch FHD or 7-inch HD display, with a "high fidelity" speaker that's nearly half the screen's size.
That does mean, or at least is advertised, that the ARCHOS Hello is quite a capable entertainment and productivity home companion. It does, after all, house Google Assistant inside. In fact, it runs Android Oreo, though it remains to be seen just how much of that Android nature will show through. It's not an Android powerhouse, mind, running on an unnamed quad core processor with 2 GB of RAM and 16 GB of storage. Even mid-range phones probably have more muscle than that.
So what will you be able to do with the Hello? Aside from asking Google Assistant some questions, you can also stream music, make video calls with Google Duo using the 5 megapixel front camera, or watch YouTube for real. But if the small screen is still too small, you can easily cast it to a bigger screen, presuming you have one compatible with Google Cast. The ARCHOS Hello will go on sale in summer for 129.99 EUR ($160) for the 7-inch model and 179.99 EUR ($222) for the 8.4-inch one.
ARCHOS also has something for cryptocurrency fans at MWC 2018. Given the surge in popularity and infamy, investors and users will probably want to safeguard their coins and keys. That's what the puck-shaped ARCHOS Safe-T mini is for. It's practically a hardware wallet for virtual coins. Technically, it's an offline wallet that stores your private keys which, in turn, grants access to those coins. Simply attach the Safe-T mini to a computer via micro USB and your private keys are protected from any form of online intrusion while you're using it. And should it be physically broken or stolen, a recovery seed key grants access to a secure backup. The ARCHOS Safe-T mini launches in June for 49.99 EUR ($62).