Archos G9 used to show off Android 4.0 ICS features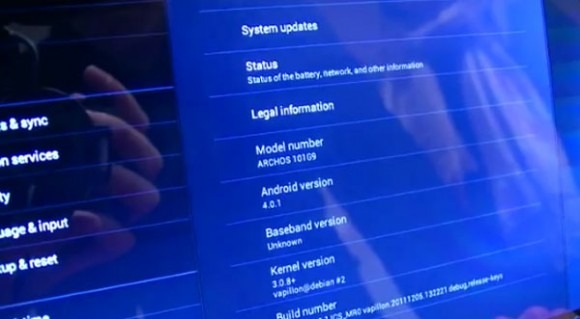 The geeks over at ARMdevices.net has their hands on the Archos G9 tablet and put the latest version of the Android OS, Ice Cream Sandwich on the tablet. The G9 is a cheaper tablet that sells for about $350. The OS appears to be fully functional in many aspects on the tablet even though ICS hasn't launched.
The video shows the OS version to be 4.0.1 and the video goes though some of the transitions and the UI elements. The OS is very smooth looking with minimal lag and delay between actions and the movement of the screen. Zooming of photos is also very fluid and smooth with no stuttering.
The G9 tablet that the OS is running on uses an OMAP4 processor. The UIs and transitions on the video look good, but there are a few things left to work on before the final release. Apparently hardware acceleration for video, support for 3G sticks and a few other things aren't working.
[via ARMdevices.net]