Archos G9 Tablets Get Android 4.0 ICS Update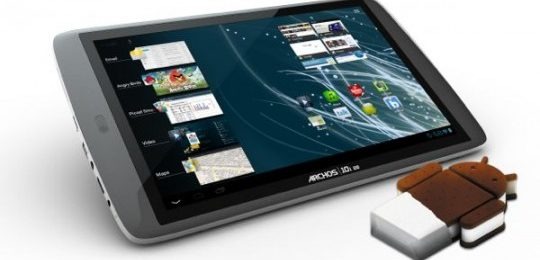 If you're the owner an Archos G9 Android tablet, you may have noticed a change yesterday. Archos announced the latest update for the tablet was starting to roll out OTA as of yesterday. The update started rolling out globally and according to Archos, all A9 users need to do is look for the notification "A" in the lower right-hand corner of the device and click it to download the new Ice Cream Sandwich operating system.
The update brings Android on the G9 to version 4.0.3. According to Archos, the update brings faster web browsing, multitasking, rich notifications, customizable home screens, resizable widgets, and enhanced social media integration. The update also brings improved text input and spell checking along with a better voice input engine and better imaging capabilities.
There is also a redesigned Gallery app with a photo editor and Archos is adding some unique touches to the ICS update for G9 users. Those updates include 1080p support for most video codecs, movies and TV shows. The update also allows the sharing of content wirelessly between the tablet and a computer or other DNLA compatible device. Other new features include an optimized file manager with drag-and-drop support, Ethernet USB dongle support, and an Archos remote control application allowing the tablet to be controlled by other Android devices.
[via Android Community]