Apple's profits exceed the entire PC industry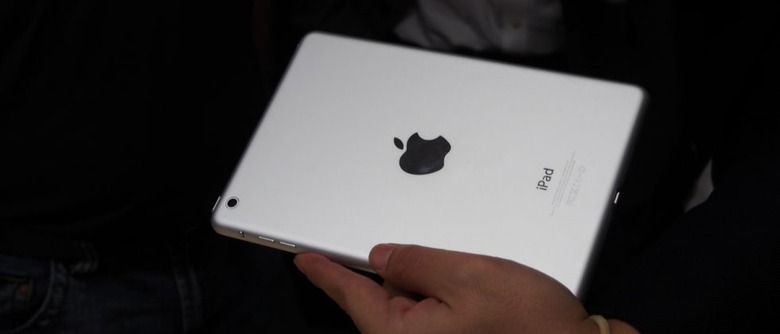 We all know by now that Apple earns a lot of money, and the company's profit margins are insane, but just how insane are they? If you put their fiscal 2012 profit numbers next to other big contenders in the tech industry, all other companies pale in comparison. Apple made more money than Microsoft, eBay, Google, Yahoo!, Facebook, and Amazon combined.
Apple just recently wrapped up its fiscal year 2012 with a record profit of $41.7 billion and $156.5 billion in revenue. In comparison, The six companies mentioned above combined for a total profit of $34.4 billion. Furthermore, Dell, Intel, Acer, ASUS, IBM, HP, and Lenovo — nearly the entire PC industry — profited a total of only $19.4 billion combined.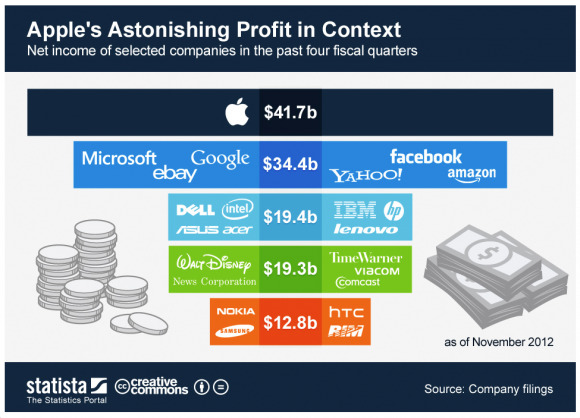 The chart also shows that Walt Disney, News Corp., Time Warner, Viacom, and Comcast combined for a total profit of $19.3 billion, which is right up there with the PC market. The smartphone market is trailing behind though, with Samsung, Nokia, RIM, and HTC making a combined $12.8 billion in profits.
While most of Apple's profits are thanks to its mobile devices, we have to assume that a good chunk of that $41.7 billion is from Mac sales, which may come close to the combined $19.4 billion of those seven PC industry leaders. In any case, the chart above really puts things into perspective, and it also demonstrates other trends that are occurring, including the fact that cable and media companies are making more money than the smartphone industry, and the same goes with the PC industry. Then again, the chart doesn't account for every single company for each category, so the numbers might not be exactly what they could be if all companies were accounted for, but it still gives you a good overall summary of where profits are heading in the tech industry.
[via Statista]