Apple Watch Series 2 Release And Pricing Info Revealed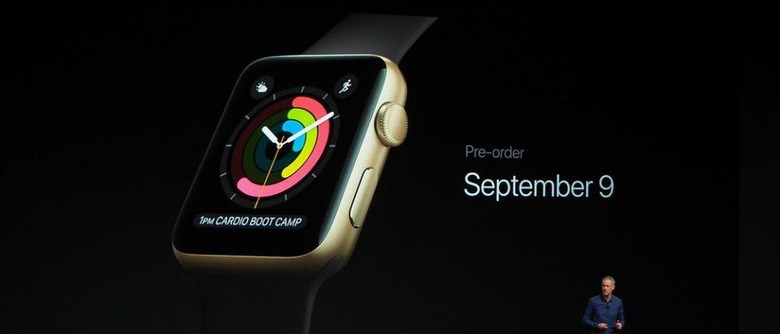 Apple had a lot to announce about the next generation Apple Watch today, but the juiciest details were saved for last. Naturally, we're talking about pricing and release information, with the company announcing that Apple Watch Series 2 will go up for pre-order on September 9, launching the next week on September 16. Those who are so inclined will be able to pick one up rather quickly, it seems.
The Apple Watch Series 2 will launch with a price tag starting at $369, but if you don't need the latest and greatest, you may want to check out the original Apple Watch, which is getting something of a refresh with a new dual-core processor. Apple is renaming the original Apple Watch as Series 1, and that will be re-launched with a $269 asking price.
While Series 1 will go up for pre-order and release at the same time as Series 2, those who are interested in the Apple Watch Nike+ will have to wait a little bit longer. Apple says that particular model will be available in late October, though it didn't give any solid details about release dates or pricing. If it's launching next month, though, we imagine those details will be coming down the pipeline shortly.
Finally, Apple said that Watch OS 3 will be unleashed to the masses on September 13. Series 2 seems to be launching at a price that's more palatable for folks who are on the fence about a smart watch, though at $369, it isn't exactly an impulse buy. Still, dropping the price on the original and giving it a new dual-core processor may be enough to snag some extra purchasers, but just how many people are moved to buy a smartwatch with these new devices on the scene will definitely be something to keep an eye on. Stay tuned.