Apple Watch OS hacked to run web browser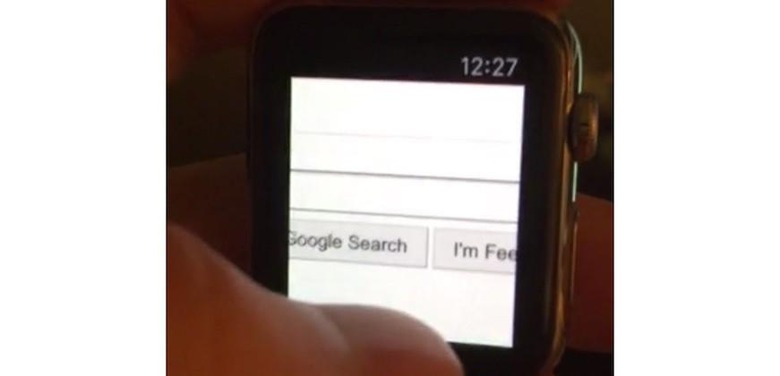 Remember back in September during the debut of the Apple Watch when one of the company's bigwigs was on stage and talked about how pinch-to-zoom and scrolling on a tiny touchscreen was a terrible way to interact with a device on your wrist? Well, never take anyone's word for it, be like developer/jailbreaker Comex and try to experience first-hand just how awful it can be. Ok, joking aside, it is a bit impressive that this soon after release, Watch OS has been hacked to run a web browser, displaying the Google homepage on the smartwatch's screen.
Sharing a brief video of his achievement, Comex shows just how hard and impractical it is to use a web browser on the Apple Watch. He can be seen scrolling around the Google homepage, which doesn't even come close to properly fitting on the screen, as well as bringing up the Copy/Define contextual buttons from the iOS user interface. Now we can all fully appreciate why there's no Safari app for the Watch.
Bonus pic. pic.twitter.com/9iDhtn2chb

— comex (@comex) May 10, 2015
This could easily be seen as the first "jailbreak" of Watch OS 1.0, which itself is actually a modified version of iOS 8.2. However, Comex offers no information on how he pulled off his hack, and it appears he has no plans to publish the details.
As of now, the only way developers can get their app running on the Apple Watch is through an iPhone extension via WatchKit. It is widely expected that at this year's WWDC Apple will begin allowing developers to create third-party apps that run on the Watch natively. Just don't expect them to allow developers to submit any web browsers for the device. For obvious reasons.
VIA 9 to 5 Mac
SOURCE Comex