Apple Watch Demo Area Being Built For March 9 Event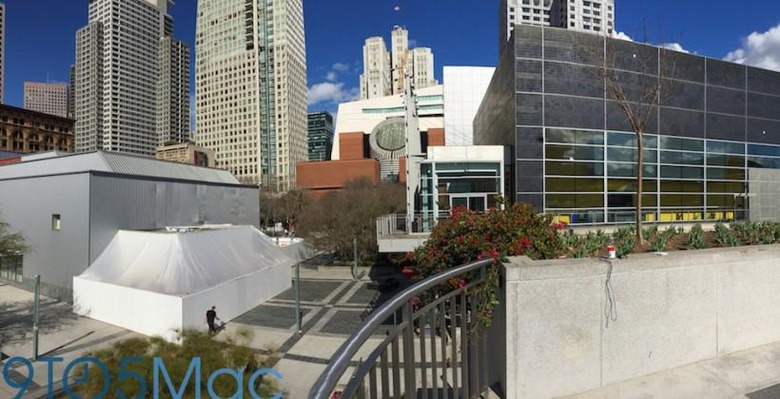 As Apple's recently announced "Spring Forward" media event on March 9th is quickly approaching, and a new look at the Apple Watch with it, several photos of the venue have appeared online showing the construction of what appears to be an additional demonstration area. The event will be held at the Yerba Buena Center for the Arts in San Francisco, a location Apple has used before for its events, but the addition of an extra demo area hints the company will have much to unveil about its new smartwatch.
The images, acquired by 9 to 5 Mac, show a white tented building being set up alongside the Yerba Buena Center. The reader that submitted the photos says it was easy to notice guards wearing "Apple Security" shirts patrolling the area. This removes any doubt that the structure will have some part in Apple's media event.
Apple used a similar outdoor construction back in September at the Flint Center for the first Apple Watch/iPhone 6 announcement event. That space was used to not only display a number of Apple Watch configurations, but also held demo payment terminals for members of the press to try out Apple Pay.
In addition to the Watch's release date and pricing details expected at the March 9th event, Apple may also demonstrate a number of new unseen features. One example could be stations to try out Apple Pay again, but this time using the Apple Watch to make payments, or an area where users can test the smartwatch in a setting that demonstrates the activity/health tracking features.
SOURCE 9 to 5 Mac