Apple TV beta brings iTunes music buying functionality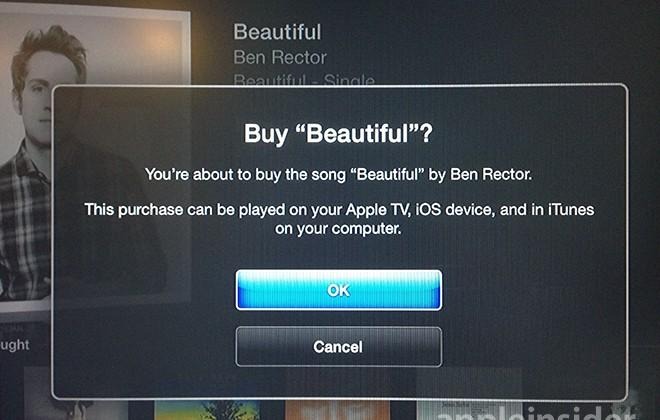 On Monday, Apple TV beta software was made available, and within it are signs that the company will be restoring iTunes music purchases to its set-top media box. While present users can only buy TV shows and movies via Apple TV, with the feature found in the latest beta release, those same users will be able to browse, preview, and buy songs and albums as well.
You can see the feature for yourself from the screenshots below from the folks over at Apple Insider, who took the feature in the beta software for a run. When opening Music, users are presented with scrolling panes and a variety of albums and artists to browse through, with a song (for example) being shown with relevant information (artist, album, title, etc.), as well as the purchase price and a preview option.
Music can be browsed by category, as well, and purchased based on either song or entire album. According to the source, the feature functions and is presented much in the same way as OS X users experience iTunes, with some obviously necessary changes to accommodate the medium upon which it is being displayed. When content is attempted to be purchased, a verification request will be required, helping prevent accidental buys.
Furthermore, pulling up an album causes the featured track or hit from the album to be highlighted from the start, perhaps to make it easier for users looking for popular content to find what they want. Selecting the song then brings up the preview and purchase options. Likewise, the free weekly singles are also available through the feature.
Finally, there's the purchasing aspect of the feature, which works as you'd expect, and ends with an option to keep the media on Apple TV, or to download it to a different device, such as an iPhone. Purchases made in recent times are then auto-updated with syncing the device to iTunes. It is expected this feature will be available with the next software release slated for later in 2013.
SOURCE: Apple Insider