Apple TV app arrives on Fire TV, but only the newer Stick models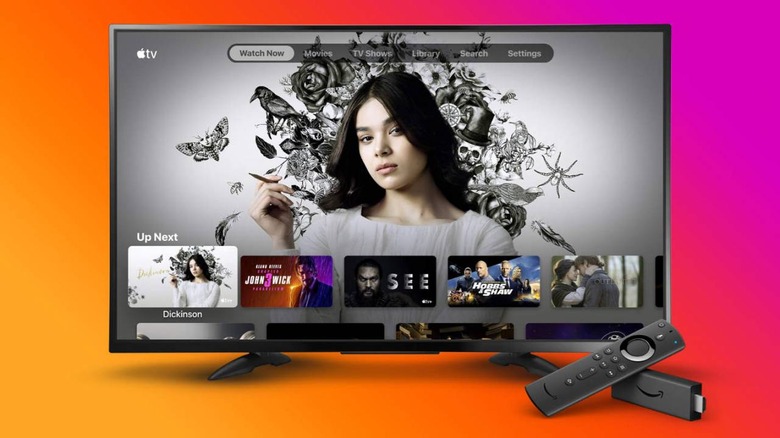 The Apple TV app has officially arrived on Amazon's Fire TV platform, enabling streamers who don't own an Apple TV device to easily access Apple's content on their television. The arrival comes only days ahead of the Apple TV+ video service, which will be accessible to subscribers through the Apple TV app. Unfortunately, the app is only available on a couple of Fire TV Stick models for now, meaning many Fire TV users won't be able to access it.
The Apple TV app is now available to download in the US, Canada, UK, Germany, France, India, Spain, and Italy. You'll need the Fire TV Stick 2nd Gen or the Fire TV Stick 4K model. For users in more than 50 countries, the Apple TV app is being made available on Fire TV Basic Edition.
This is only a temporary restriction, however. Amazon says the Apple TV app will eventually also arrive on the Insignia and Tobisha branded Fire TV Edition Smart TVs, the 1st and 2nd Gen Fire TV Cube models, the 3rd Gen pendant-shaped Fire TV, and the Nebular sound bar.
The app won't ever be compatible with the 1st Gen Fire TV Stick or the 1st/2nd Gen Fire TV. It's unclear whether the app will ever arrive on the Westinghouse Fire TV smart televisions.
The app's arrival is a big deal for consumers who plan to subscribe to Apple TV+, a video streaming service scheduled to launch on November 1. Apple has already revealed a large number of shows and movies that will be available on its platform, including a series starring Jason Momoa called See, plus Little America, Dickinson, and more.