Apple tops Samsung in Q4 2017, smartphone shipments down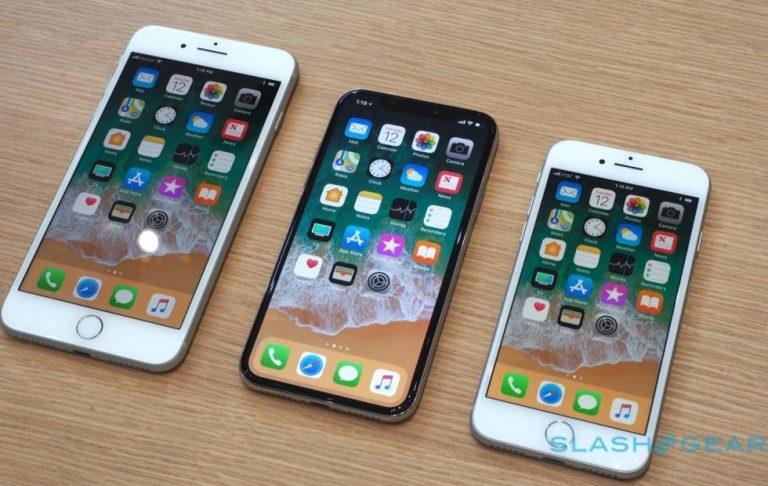 In the game of smartphone thrones, you never wear the crown for long. While Apple and Samsung always occupy the top two spots, who is above whom varies by the quarter or even data source. It seems that, for the last quarter of last year, Apple managed to win the blue ribbon against eternal rival Samsung. But while Apple fans may want to celebrate this victory, it might be short-lived for the industry as a whole. According to IDC, global smartphone shipments actually declined by 6.3% in Q4 2017 compared to the same period the year before.
The smartphone market is a very dynamic and vicious one. Who occupies the top five spots in terms of smartphone shipments can change from quarter to quarter and year to year. Last quarter, it was Apple's time to shine. IDC attribute it to Cupertino somewhat diversifying its portfolio, offering three models that vary greatly. Ironically, it managed to beat Samsung in this game even as it saw a 1.3% decline in the year-over-year numbers.
Samsung also lost some weight last quarter. Actually, all of the top five did. Except for Xiaomi. In fact, Xiaomi doubled its market share last quarter, from 3.3% to 7%. And that's without even desperately targeting the US market like Huawei. Instead, it found its growth in breaking out into emerging markets like Russia and India.
Despite Apple's and Xiaomi's wins, however, the entire smartphone market has had a tough 2017. In the fourth quarter, OEMs in total shipped 6.3% less than the same quarter last year, from 430.7 million down to 403.5 million. Fortunately, the total number for the whole year is less disappointing, only down by 1% compared to 2016.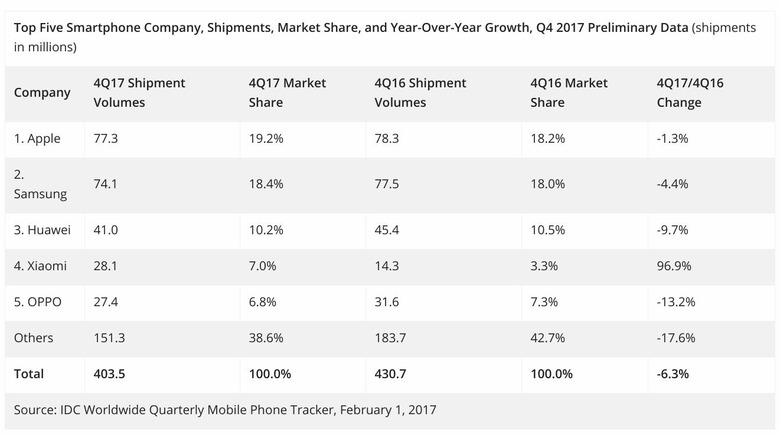 The reason for this decline? IDC ironically attributes it to the rise of "ultra-high-end" flagships, like the iPhone X and Galaxy Note 8. This has made consumers see such devices as a luxury than a necessity. Which, in turn, has discouraged them from upgrading during that year and hold on to their current phones instead.